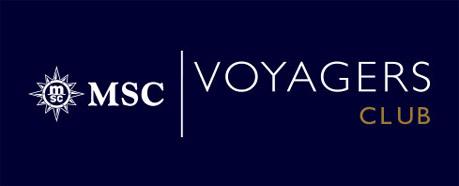 The MSC Voyagers Club is a five-level passenger loyalty program. Members earn points based on which cruise "experience" (Bella, Fantastica, Aurea or Yacht Club) they book combined with length of cruise (ranging from 200 points for a five-night or shorter cruise booked with the cheapest Bella experience to 2,000 for a nine-night or longer cruise in the Yacht Club).
In addition, passengers receive an additional 100 points for every €/$150 spent (based on the onboard currency) on pre-booked onboard extras -- such as spa treatments and shore excursions -- as well as onboard purchases.
Voyagers Club Levels and Benefits
Welcome
Available during your first cruise
Use of dedicated help desk onboard
Access to MSC Voyagers Club exclusive online area
Subscription to MSC Voyagers Club e-newsletter, including a special pre-board issue
Classic Membership | 1 - 2,199 Points
Available with 1 to 2,199 points
Receive all Welcome perks
5% cruise discount for all cabin occupants year-round
5 to 15 percent cruise discount on Voyages Selection sailings
MSC Voyagers Club-branded key card
MSC Voyagers Club luggage tags
Complimentary cocktail
Special onboard offers
Access to onboard dedicated number
Access to MSC Ambassador online poll
Silver Membership | 2,200 - 4,299 Points
Available with 2,200 to 4,299 points
Receive all Classic perks
$50 onboard credit on Voyages Selection sailings
Milestone reward when you reach the next loyalty status level
Complimentary fruit basket (one per cruise)
Gold Membership | 4,300 - 9,999 Points
Available with 4,300 to 9,999 points
Receive all Silver perks
One complimentary one-hour thermal area session per cruise
Complimentary MSC Voyagers Club gift on each sailing
Priority disembarkation in ports requiring tender boat
Free 5x7 MSC Voyagers Club photo taken at the Welcome Back cocktail
Complimentary birthday cake onboard
Diamond Membership | 10,000 Points and More
Available with 10,000-plus points
Receive all Gold perks
Priority boarding and disembarkation at end of cruise
One complimentary specialty restaurant dinner for two (on a "tasting menu" with no included beverages)
Complimentary in-cabin dessert (spumante with chocolate-dipped fruit)
Courtesy bathrobe and slippers
Complimentary dance class
Access to exclusive Diamond party
Complimentary MSC Voyagers Club chocolate ship
Late check-out
********************
Cruise411 has the largest selection of cruise deals for all of the popular cruise lines! Book your next cruise today!
Get your choice of a FREE bonus offer when you book with Cruise411 instead of booking directly with the cruise line. We give you our exclusive bonus offers, plus all qualifying cruise line offers, plus all of the cruise line loyalty program benefits. Shop now to get the very best rewards and the lowest rates with Cruise411 or call 800-553-7090.